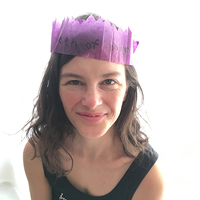 Danica Novgorodoff is an artist, writer and graphic novelist from Brooklyn, NY and Louisville, KY. Her graphic novels include Long Way Down (adapted from Jason Reynolds' novel by the same name), The Undertaking of Lily Chen, Refresh Refresh, Slow Storm, and A Late Freeze. Her picture books include Alexander von Humboldt: Explorer, Naturalist, and Environmental Pioneer, and Not a Cat: a memoir (written by Winter Miller).
She was awarded a 2015 New York Foundation for the Arts fellowship in Literature, was named Sarabande Books' 2016 writer in residence, and received a 2020 Café Royal Cultural Foundation grant in literature. Her art and writing have been published in MoMA Magazine, Best American Comics, The Believer, Artforum, Esquire, VQR, Slate, Orion, Seneca Review, Ecotone Journal, The Arkansas International, and others.
Danica's works in progress include a graphic novel on climate change (First Second Books, in collaboration with journalist Meera Subramanian), and a book on rice (Flatiron Books; in collaboration with Harlem chef JJ Johnson). She has been a fellow at the MacDowell Colony, Blue Mountain Center, VCCA, Willapa Bay and Brush Creek.
Danica is a co-lead of the Stop the Money Pipeline committee at 350 Brooklyn (protesting the financial institutions that fund climate crisis). She is on the board of the Cofán Survival Fund, working to support the indigenous Cofán people of the Ecuadorian Amazon to protect their environment and culture.